Established in 1975, Vietfracht Hochiminh City has been developed day by day in terms of business scope as well as size of organization and quality of services.
Vietfracht Hochiminh City has become one of the leading shipping organizations in Hochiminh City and surrounding area, involving in several activities of shipping industry, such as: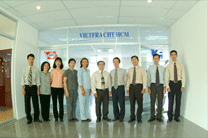 Chartering and shipbroking;

Shipping agent;

International freight forwarders;

OBC shipments handling agent;

Custom broker;

Inland Transport operator.

Container depot service
Vietfracht Hochiminh is acting worldwide and now representing several shipping lines running whether liner or tramp services to/from Hochiminh City, ports at surrounding provinces and offshore drilling rigs. Vietfracht Hochiminh is also representing several foreign international freight forwarders. And Vietfracht Hochiminh City has very good relation with the local authorities that facilitates its business.
Our philosophy is:
Fast, best quality services and efficiency
Vietfracht Hochiminh City wish to establish long-term business relationship with its partners all over the world on the basis of equality and mutual benefit.
More than one hundred trained and qualified staff of Vietfracht Hochiminh City are always at your services with competitive cost. Please come and do business with us so that you may rest assured that our services satisfy you all the time.

Please contact:
VIETFRACHT HOCHIMINH City
Address: 2nd-3rd Fl., 11 Nguyen Cong Tru St.,
1st Dist., Ho Chi Minh City, Vietnam.
Tel: 84-028-38210809
Fax: 84-028-38210810
Email: contact@vietfracht-hcm.com