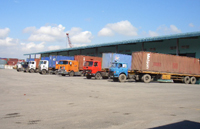 Our experienced and knowledgeable staffs always know how to satisfy customers' requirement as well as to protect their own interest. Our oversea representatives and agencies will take care of customers' interests and coordinate with us for smooth movement of the goods to all destinations.
We can assist our customer in following fields:
1. Airfreight and sea freight forwarding services:
Export/import documentation consultancy

Storage facilities (for both short and long term)

Collection of C.O.D.

Stevedoring, warehousing and tallying

Pre-trip inspection (PTI) for reefer boxes

Free pre-alert telex/fax for export freight

Daily pick-up and delivery service

Cargo packing, crating and marking
Special cargo handling services such as heavy-lift, oversized, fragile and valuable cargo

Dangerous cargo handling

OBC (On Board Courier) service
2. Customs clearance, documentation and Insurance.
3. Multimodal transportation
Domestic and world-wide door-to-door services

Break down and direct delivery service to end users
4. Consolidation and distribution services.
Distribution service (for documents, parcels, stocks)

Break-bulk and distribution project cargo

Consolidation services to all major destinations

P.O.D advice for import consolidation.
5. Transiting cargo to Laos, Cambodia and China.
Our team is your team and we are at your service round o'clock!